classic Events
Paint, Paper, Scissors will come to your location. You provide the space and we provide all of the necessary tools and materials, as well as instruction for everyone to leave with a finished painting they can be proud of. The sessions last approximately 2 hours. We hold public and private events. We are happy to customize a project for your event.
ADULTS: $30/per person
SENIORS: $25/per person
KIDS: $20/per person
Minimum 6 people
acrylic paintings
Click on image to see at full size.
LAVENDER PAINTING & AROMA THERAPY WORKSHOP
In this workshop, we will discuss the lavender fields of France as we paint this simple, no-fail painting. During the painting, we will have a presentation on aromatherapy while making lavender lotion and sachets. Each participant will leave with a tin of lavender lotion, a lavender sachet, their own 12x12 painting of lavender along with some knowledge of aromatherapy and relaxation techniques.
COCOA OR COFFEE & CHOCOLATE
During this event, the participants have the option to paint either a cup of cocoa or coffee, personalized in their own colors. While we are painting this beginner, no-fail painting, we will be having a lively discussion about cocoa, coffee and chocolate. We will bring supplies to make chocolate-dipped spoons. We would ask you to supply coffee and cocoa for the guests to enjoy during the event. Each participant will leave with a 10x10 canvas and three chocolate- dipped, decorated and bagged spoons to enjoy themselves or give as a sweet gift!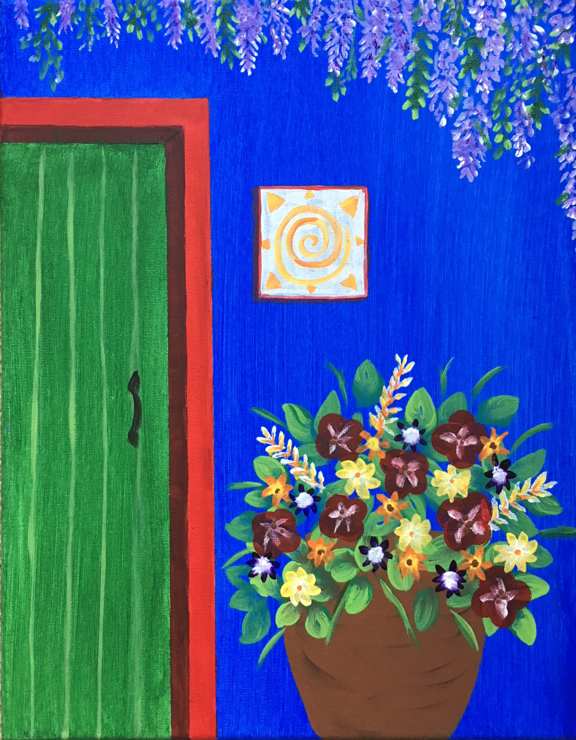 This event features painting an image reminiscent of Frida Kahlo's home in Mexico City. We would encourage you to watch the movie about her life, entitled "Frida" with Selma Hayek. During the painting process we will discuss her extraordinary work and life.
Alcohol ink
Click on image to see at full size.
Other projects
Click on image to see at full size.